Intel held an investor webinar yesterday, with the chip giant working to project consistency and confidence amid slipping roadmaps and market share. At the event, Intel primarily focused on where it stands with four (!) generations of Xeon chips, but the company also shared a couple of updates on Gaudi, the deep learning processor developed by Intel-owned Habana Labs.
Sapphire Rapids (4th-generation)
The 4th-generation (and current) Xeon CPU, based on the Intel 7 process and equipped with Intel's performance-focused "P-Cores," launched earlier this year. Sandra Rivera, executive vice president and general manager of the Data Center and AI Group at Intel, said that Intel is on track to ship a million units of Sapphire Rapids by mid-year and celebrated the diversity of Sapphire Rapids-based designs (200+) that are currently shipping – per Intel, the most ever at the time of embargo lift.
No new word on the "Max" series CPUs (i.e., Sapphire Rapids with HBM), but we're expecting them to appear in the exascale Aurora system at Argonne National Lab, as well as in Los Alamos National Lab's Crossroads system and a new supercomputer hosted by Argentina's National Meteorological Service. Spoiler alert: Intel didn't talk about any forthcoming Max series CPUs in the webinar, and didn't talk about HBM plans for forthcoming generations when it launched the Max series rebrand, either. It remains unclear how committed the company is to providing HBM-equipped Xeon CPUs past Sapphire Rapids.
Emerald Rapids (5th-generation)
"Later this year, we expect to deliver our 5th-gen Xeon Scalable Processor, Emerald Rapids," Rivera said, holding up an Emerald Rapids chip as seen in the header. A Q4 timeframe was indicated for Emerald Rapids, which, like Sapphire Rapids, is a P-Core CPU based on the Intel 7 process. Rivera said that volume validation is underway for Emerald Rapids and that it is currently being sampled to customers. Emerald Rapids features an increase in cores (up to 64, compared to Sapphire Rapids' 60; core density was a major emphasis for Intel during the webinar) and, according to Rivera, features higher performance-per-watt in the same power envelope as its predecessor. Rivera said that the delivery of Emerald Rapids this year shows Intel "getting back to scheduled predictability."
Granite Rapids and Sierra Forest (future-generation)
"Following 5th-gen Xeon will be Granite Rapids and Sierra Forest," Rivera said. "These two processors will be delivered on our next-generation high-performing platform, which shares the same base architecture and gives customers portability between the two products." Both Granite Rapids (P-Core) and Sierra Forest (efficiency-focused, hyperscaler-targeted E-Core) will be based on the Intel 3 process, Intel's second-generation EUV node. Intel 4, the first to leverage EUV, will be used to make PC chips like Meteor Lake, due to arrive later this year.
Granite Rapids (which features even further increased core density and count, along with further improved performance-per-watt) is slated to be the first P-Core chip based on Intel 3. Lisa Spelman, corporate vice president and general manager of Intel Xeon, said that Intel is "building the fastest memory interface in the world for Granite Rapids," touting a new type of DIMM called "multiplexer combined rank" that allowed for an 80% peak bandwidth increase over current-gen competition. Rivera said that the first units of Granite Rapids are "healthy" and that it is being sampled to customers today.
Sierra Forest, meanwhile, will be the debut of the E-Core approach, with Rivera calling it the "lead vehicle for the Intel 3 process." The chip will feature 144 E-Cores per socket and, according to Intel, will have "best-in-class" performance-per-watt. Intel demoed the chip booting on Linux during the webinar, showing the 144 cores tackling a process. "Our first customer for Sierra Forest has already received silicon," Rivera said, "and we expect to be sampling to additional customers in the coming months."
Intel expects to ship Sierra Forest to customers in the first half of 2024, followed "shortly after" by Granite Rapids. This is a remarkably swift roadmap for Intel: if all goes according to plan, Intel will have begun shipping three different generations of Xeon processors in a span of less than a year and a half (January 2023's Sapphire Rapids launch to H1 2024's Sierra Forest launch).
Clearwater Forest (future-generation)
If that isn't enough, Intel also unveiled the name and trajectory for one of its subsequent-generation Xeon processors: Clearwater Forest. In keeping with the P-Core "Rapids" names and the E-Core "Forest" names, Clearwater Forest is an E-Core processor. Intel says that it will be manufactured on the Intel 18A process: the "culmination of [Intel's] five nodes in four years strategy," Rivera said, and the process through which Intel plans to "achieve process leadership." Rivera added that Intel is "firmly on pace" to deliver Clearwater Forest in 2025.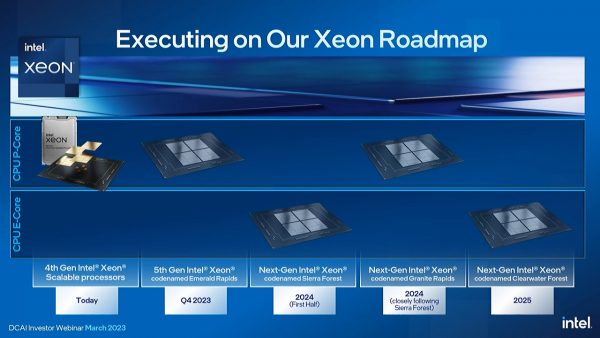 Gaudi
Intel's AI-focused Gaudi chips have been quietly gaining steam for several years. Amid the snowballing interest in generative AI applications like ChatGPT, Intel took the opportunity at its webinar to tout Gaudi's role in its product lineup. "For those very large language models, [Gaudi] is really the strongest product that we have to compete and win in that market," Rivera said, contrasting Gaudi with more HPC-positioned products like GPUs.
Intel said that Gaudi2 – the current-generation Gaudi chip – demonstrated 2× deep learning inference and training performance compared to popular GPUs. Further, Rivera said that Intel had worked with Hugging Face to enable the 176 billion-parameter BLOOMZ model with Gaudi2 Accelerators, with Hugging Face finding a 3× speedup relative to competitive GPUs.
Intel also shared that a cluster based on 512 Gaudi accelerators – which also included 256 Xeon CPUs – delivered 1TB/s bisectional bandwidth and had a scaling efficiency of 97% ("Considerably higher than the industry average for any datacenter cluster," per Rivera).
Gaudi3 is on track for next year, with Intel's roadmap graphic lining Gaudi3 up roughly with the launch of Sierra Forest.
Max Series GPUs (née Ponte Vecchio)
Intel's datacenter- and HPC-oriented "Max series" GPUs recently hit a significant bump in the roadmap when the company scrapped Rialto Bridge, the successor to the much-delayed current-generation Max series GPU, and repositioned its plans for the hybrid CPU-GPU Falcon Shores "XPU" as an iterative GPU-only release. Intel – which termed this in the webinar as a "streamlining" of the GPU roadmap – still took the opportunity to highlight Ponte Vecchio, with Rivera saying that "Max series GPUs are delivering up to 50% better performance for physics applications versus competitive products."
Interestingly, when Intel revised its GPU roadmap, we had some questions about the MareNostrum 5 system at the Barcelona Supercomputing Center, which was previously slated to feature Rialto Bridge GPUs in a relatively small partition. In this presentation, Rivera appeared to indicate that Intel has shipped Max series GPUs to BSC – a possible clue that Ponte Vecchio is taking the place of Rialto Bridge in MareNostrum 5.