…But chipmaker still does not have an integrated product strategy, which puts the company behind AMD and Nvidia
Intel finally has a full complement of server and PC chips it will release in the coming years, which will determine whether it has regained its leadership in chip manufacturing.
The chipmaker this week announced a new processor called Clearwater Forest which will be the first server chip made on its most advanced process called 18A. The process has next-generation transistors and other technologies that will make chips faster and more power-efficient than predecessors.
Intel 18A is the process the chipmaker hopes will give it a manufacturing advantage over rival Taiwan Semiconductor Manufacturing Co., which boasts AMD, Apple, and Nvidia as its clients.
For that, Intel has taken on the challenging job of advancing five nodes in four years, which would have otherwise taken eight to ten years. Intel has invested billions in new factories to achieve that goal.
What's Coming Up
Clearwater Forest will come to market in 2025, and will be "the culmination of our five nodes in four years strategy," said Sandra Rivera, executive vice president and general manager for the datacenter and AI group at Intel, during a presentation of Intel's roadmap this week.
The Clearwater Forest chip will have low-power Xeon "E-Cores," and are designed for hyperscalers, which typically need higher core counts to serve cloud-native applications. It will succeed a server chip called Sierra Forest, which is the first generation of low-power Xeon cores for hyperscalers.
Intel's Xeon chips are what Rivera termed "lead vehicles" for most of the upcoming nodes.
The high-margin server chips will serve two purposes as lead vehicles: it will prove Intel can make high-performing chips on new nodes, which should ease customers that have doubts about the chipmaker's ability to deliver products on time and reach its manufacturing goals, said Jim McGregor, principal analyst at Tirias Research.
With final products announced for each node, Intel now has no room for error, and one misstep can affect its credibility and have the domino effect for its server roadmap to come crashing down, McGregor said.
Later this year, Emerald Rapids will succeed the current Sapphire Rapids and will be released on Intel 7. Intel's PC chip Meteor Lake will be released on Intel's next node called Intel 4, which will be the first to use EUV technology to etch finer features on chips.
That will be followed by server chips Sierra Forest and Granite Rapids on Intel 3, which will be released next year. A PC chip called Arrow Lake – due for release next year, will lead off Intel's 20A, and Clearwater Forest will lead off the most advanced 18A node. Intel has also listed a PC chip called Lunar Lake, which will likely be made using 18A.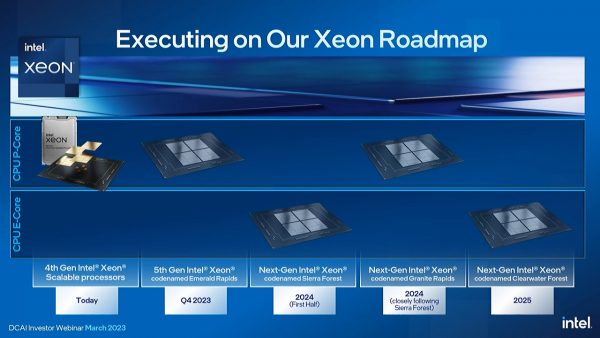 Server Chips Are Priority
In the past, Intel's release of the first chips on new nodes has swung between Xeon chips and PC chips, and that matters because it reflects high-priority markets for the chipmaker.
"Even when PCs go through highs and lows, servers are still ramping because of new applications. You do not want to miss out on hyperscalers, AI, and other markets," McGregor said.
Intel's Rivera said that server chips provide a 40% to 50% margin, and the cash from server chip sales will help alleviate the costs related to building the factories, to which Intel has committed billions of dollars.
"We have to pay for all of that process technology and you'll see that in terms of the operating margin," Rivera said.
The disaggregated chip design based on tiles, also called chiplets, changes the mindset of how to construct processors, as it allows dies from older nodes to be combined with cutting-edge server CPUs, Rivera said.
"Not every block – memory block, I/O block, different parts – of the IP infrastructure may benefit from the latest process nodes. We are going to be smart about how we design the products, how we architect them, how we bring them to market, lowering the risks, lowering the costs, and increasing the predictability and quality of our execution," Rivera said.
Timely releases of Intel's server chips on new nodes may convince external customers that the factories are running at full steam and ready to make custom chips.
Intel is targeting hyperscalars that will buy customized chips in large volumes, and similarly, previous attempts by the chipmaker to open up its factories to external customers were only targeted at large customers, McGregor said.
Intel's Non-Integrated Chip Strategy
The server roadmap presentation also outlined a disaggregated approach in product development, with each product unit developing products independently, with few tie-ins. Rivera said more than 15 new FPGA products are scheduled to appear this year, and Gaudi3 is in the pipeline.
That is unlike rivals like AMD and Nvidia, which are building comprehensive product lines that tie together CPUs, GPUs, FPGAs, AI chips, and data processing units.
AMD and Nvidia are seeing success with integrated offerings, but Intel's future is in manufacturing custom chips for clients, so it makes sense to keep IP blocks separate rather than integrate them, McGregor said.
Intel is learning from the experience with Sapphire Rapids, which it spent three years building, with many changes to meet the fast-changing AI needs.
"Intel has done that with Sapphire Rapids. It is a CPU with accelerators. It is going to have so many different SKUs with memory and accelerator combos," McGregor said, adding "it helps to have independent IP and if one gets delayed, you aren't held up."
The changes to Sapphire Rapids took many years, which is what delayed the chip's release. Such changes will be easier with chiplet design, which brings in the ability to swap out processing tiles, and a flexible design helps mix and match CPUs with internal or external accelerators from business unit.
Rivera gave the example of the AI market, in which inferencing is evolving faster than training as generative AI models are deployed. Intel has three chip options, which include the Xeon Max GPU, Gaudi chips, and Agilex FPGAs. The product offerings are independent of each other, and Rivera is following the strategy established by CEO Pat Gelsinger: to chop paperweight products and refocus on engineering.
Intel has already simplified its high-performance computing roadmap by canceling the Rialto Bridge GPU, which was the intended successor to the Ponte Vecchio chip.
Intel also last month changed plans for its chip codenamed Falcon Shores, which was to combine an x86 CPU and Xe GPU into a chiplet architecture. Instead, Intel will first release a GPU-only version of Falcon Shores and will do so in 2025 rather than the originally planned debut in 2024. Intel has talked to customers and is revamping its roadmap accordingly, a company spokeswoman said.
"Running a playbook where all teams are focused on our commitments prioritizing critical aspects of our programs and executing at a predictable cadence will enable us to be more competitive in high-growth parts of the market," Rivera said.
Fixing a Broken AI Strategy
The disaggregated server chip strategy is also an effort to undo Intel's haphazard approach to AI, which is built around the dozen or so companies it has acquired, McGregor said.
The company acquired chipmakers like Nervana, which failed, and is now building its AI training strategy around Habana, which makes the Gaudi chip. The Xeon Max GPU, which is targeted at high-performance computing, will be an option for AI and deep learning. The Agilex FPGAs and eASICs are targeted at inferencing.
But Intel needs to figure out how it wants to sell its product, and there is a good chance that a bouquet of independent chips may not work.
"Everyone's trying to rearchitect the datacenter and trying to upgrade the network with the changes in what we're seeing, especially around AI. It's changing so rapidly, it is kind of like Intel needs to have an integrated strategy," McGregor said.
Intel's market share in server chips was 82.4% in last year's fourth quarter, a decline from 89.3% in the same quarter of 2021, according to Mercury Research. AMD's server market share was 17.6% in the fourth quarter last year, growing from just 10.7% in the fourth quarter in 2021.
Header image: Lisa Spelman, Intel corporate vice president and general manager of Intel Xeon Products, displays a wafer holding Sierra Forest processors. (Credit: Intel Corp.)